michele courage
Expansion for the Soul
Become a Dragon Whisperer
– Join my paid membership group – 
Are you called to DRAGON ENERGY
Would you like to be part of a sacred, healing space where you can learn, grow and most importantly thrive as the being of light and magic that you truly are? Are you wanting new tools to change energetic situations and shift your energy and situations as well as for those around you?
Join me in the Dragon Whisperer Circle for a journey with the Dragons and their incredible energetic powers!
  I am so excited to announce the official opening of the Dragon Whisperer's Circle. This is a sacred space where we come together each month to meet up with likeminded souls and be supported by the different energies of the Dragons, where I can help and answer questions.
I have been wanting to make this space available for some time, and I have finally found the way forward on this platform here on my website.
This allows for a place of sacredness to be held by me easily accessible for all who are interested in soul growth and expansion.
Every month, we will meet up via a ZOOM call, learn about, and receive gifts of healing and wisdom from a different Dragon Energy. Some of these Dragons are connected to and do the work for Archangels and Masters, others are connected into Galactic energies and so much more.
For those of you who have enjoyed my previous 'Dragons Celestial Beings' online Activations, this is a chance to move into a more constant relationship with the different Dragon energies. For those that are new it is a chance to open up and experience the transformational power of these incredible energies.
It is not just about the Dragons though, it's about YOU. How you can work with these beings and with yourself to live your most magical life while you are here on this planet. How you are able to call the Dragons in to help with clearing, shifting energies and planetary work. The constant reminder to activate these energies is how we will move more quickly into a 5D world.
Join at the incredible FOUNDING MEMBER price of only NZ$11 
Are you curious about Dragons and how they can help you to shift and clear energy
How you can use as Dragon energies to do planetary service work
An opportunity to transport yourself into a higher realm to stay more in 5D
Are you curious about Galactic energies
Have you been attracted to or always been facinated by Dragons
Want to deepen your spiritual understanding and knowlege
The powerful transformative energies of the Dragons offer us now the opportunity to embark on a life of clarity, with this new tool to shift energies with the Dragon realm. Many of us are hearing the call of the dragons at this time as they lovingly wish to be supportive allies in the next stage of the Ascension Process on Earth.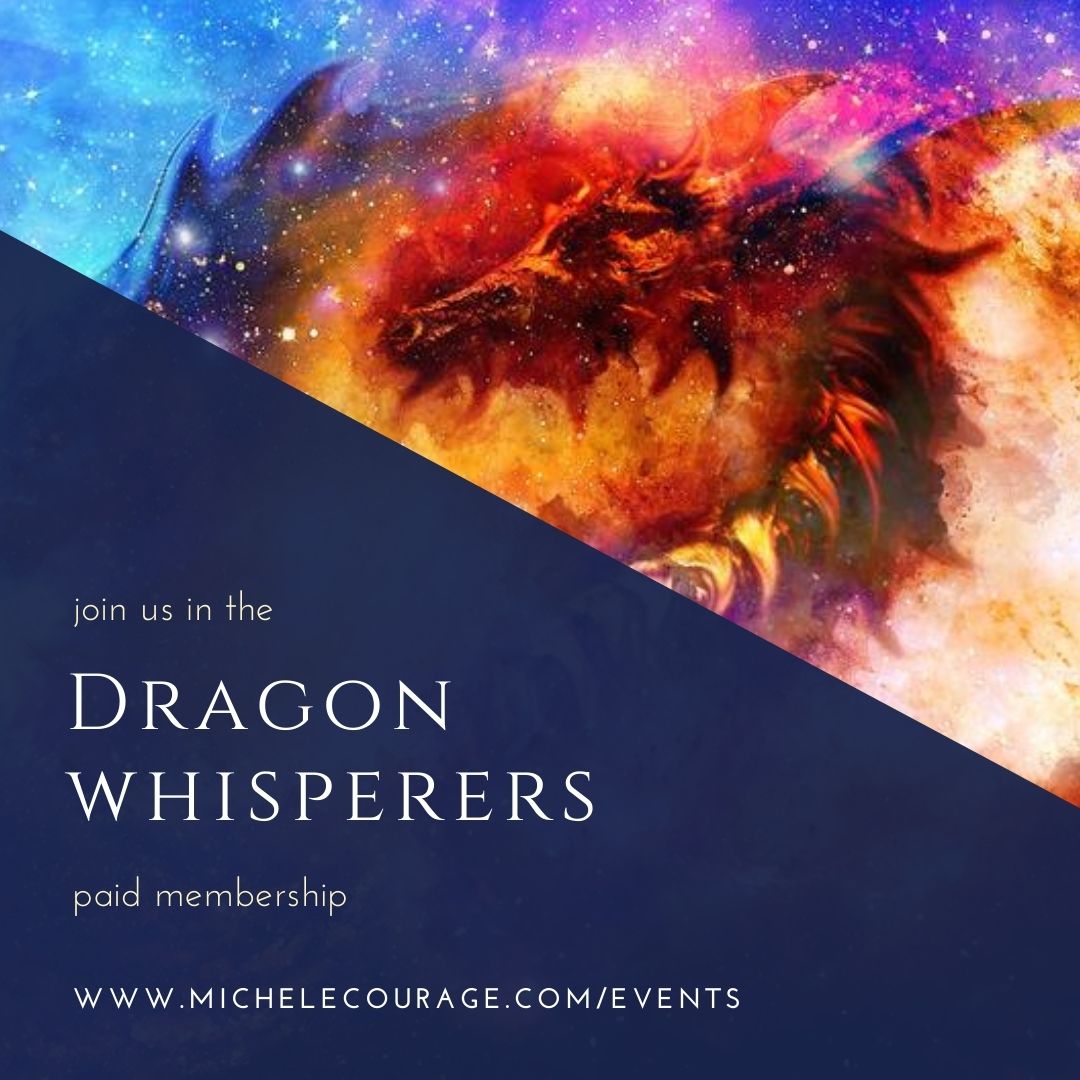 Dragon Whisperer Circle 
This is a Circle where the Dragon energy can be received by you for your transformation, support, and growth.
A Circle where you will be meeting and enjoying the company of likeminded friends.

A Circle where you can learn how to work with these beautiful light-beings in a meaningful way in order to truly flourish.

A Circle where you can be supported in allowing new ways for prosperity, manifestation, expansion, and abundant possibilities to come into your life.
The Dragon Whisperer's Circle will be very much Dragon and Spirit led. I will have a weekly presence in the Facebook group, offer guidance and then offer the live monthly Activation and guided Meditation Zoom call. If you've been wanting to work more closely with me or the Dragons but haven't been drawn to a previous course or a 1:1 session, this is a way to be a part of my growing community and experience the Dragon Magic for yourself.
There will also occasionally be special discounts offered exclusively to the Dragon Whisperer's members only!
So will you join me?
Will you hear this invitation offered to you now, and come into the Dragon Whisperer's Circle?
How do I subscribe?
 This subscription is being offered to founding members at the low monthly rate of only NZ$11, which is your monthly rate for as long as you remain consistently subscribed. This special, not-to-be-repeated rate is in place until a time, at which point doors will be closed. (The membership will then be higher when they re-open).
 You can pay via the link and may unsubscribe at any time.
When you join you can join the Private Facebook Group Dragon Whisperer and there will be space to ask questions, information and material, guidance etc.  
 Don't wait … I've created this membership to reach and help as many as possible and this price won't be available forever. This is YOUR time to activate the DRAGON ENERGIES and become a FOUNDING MEMBER!  Your time to expand your souls growth and learning.  Jump in NOW! 
Founding member price of only NZ
$11.00
" I've got a very strong presence with this current dragon. Things that normally trigger me, are slipping by like Teflon. Such a beautiful happy bubble I'm in. Definitely helped throughout our house move!" 
"I would highly recommend attending these activations. Michele Courage holds beautiful and high vibrational space for everyone. Please do yourself a favour and come to the next one! Love love loved last night! In a dusky pink glow today" – Heather
"Your fire and black dragons worked magically
 I lined them up around my home last night and they're still there energetically. I also placed myself in a bed full of diamonds and a glass case of diamond glitter with light beings surrounded in my universal heart as I slept. Slept like a baby felt body adjusting
Thank you for your support and great care – Kalpana
"That was absolutely lovely tonight, thank you Michele for holding space for us! I might take another trip tonight!" – Rebecca